JEMARO - Tuition fees and financing
Erasmus+ EMJMD scholarship unavailable starting 2024
Please note that there will be no Erasmus Mundus Scholarship for JEMARO 2024-2026 intake onwards as the EU funding received by the consortium covered 4 intakes only, the last one covered being 2023-2025
Tuition fees / Participation costs
For Partner country students: €18,000 for 2 years
For Programme country students : €9,000 for 2 years
Am I a Programme country student or a partner country student?
"Programme countries" include students whose nationality is one of the 27 Member States of the European Union, and additionally, Iceland, Norway, Republic of North Macedonia, Liechtenstein, Turkey, Serbia.
"Partner countries" include all other countries
Students whose nationality is one of the Erasmus+ Partner Countries and who are neither resident nor have carried out their main activity (studies, training or work) for more than a total of 12 months over the last five years in a Programme Country are considered as Partner Country students. The five year reference period for this 12 month rule is calculated backwards from the submission deadline.
Consortium Scholarships
There is no specific application form to fill out to obtain a Consortium Scholarship, an applicant who submitted by the deadline their application will be considered for it.
Consortium scholarships are limited in number and are automatically awarded to the best ranked students of the selection round. They act as
partial tuition fee waiver,
meaning that when received, the students' overall tuition fees are lowered (i.e. a Brazilian student's tuition fees would be lowered down to €13,000 if this student received a €5,000 Consortium Scholarship).
For the 2024-2026 intake, there will be two application rounds, one from October 2023 to January 31st 2024 and one from February 1st to May 1st 2024. The first application round will have priority in the award of consortium scholarships, meaning that if the students accept all the scholarships awarded then, there will be none left for the second application round. If some Consortium Scholarships are not accepted during the first application round, they may be offered to the top applicants of the second application round.

JASSO scholarships
Japanese students seeking financial support can apply for the JASSO living allowance offered by the Ministry of Education, Culture, Sports, Science and Technology of Japan (MEXT).
More information on
Keio
JEMARO website
MEXT website
Guidebook
We gathered in a
guidebook
existing scholarship opportunities you are eligible to once enrolled in JEMARO.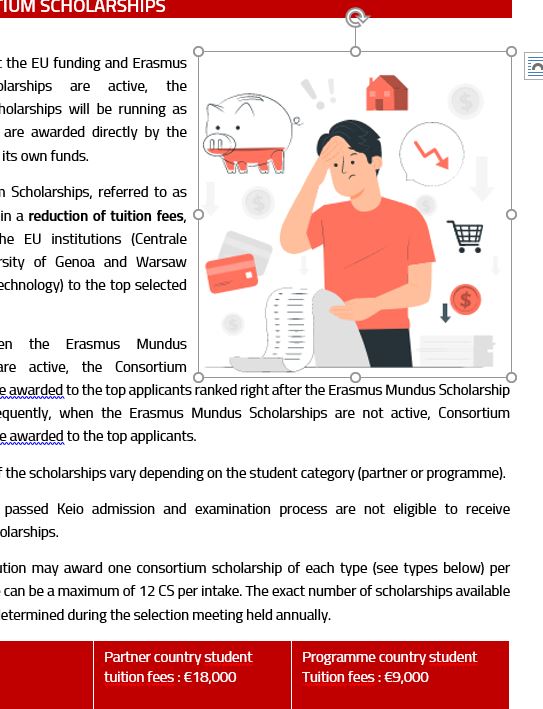 Published on July 18, 2019
Updated on September 27, 2023
Students

Invited professor/guest lecturer